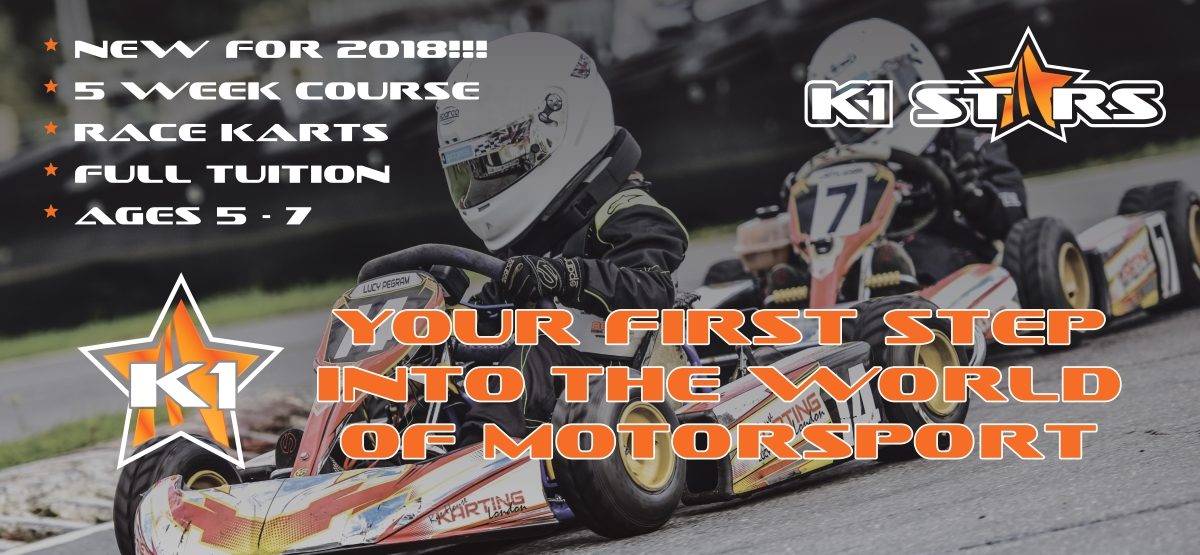 K1 STARS NOW AVAILABLE TO BOOK – Phase 3 dates announced
TWO brand new courses NOW available!!! (Indigo and Lime)
THE TIME HAS COME FOR YOU TO SECURE YOUR SPACE IN THE K1 COURSE!!!
As you will be aware, we have set up a unique driver training programme aimed specifically for 5 to 7 year old drivers that wish to do a little more than "play" sessions.
You are now invited to sign up your driver to a 5 x 1hr session "course" of race training at Rye House Kart Raceway, ALL kit provided.
Your driver will be given a fully race prepared "K1" Bambino Kart (brand new in April 2018), a dedicated tutor (for all 5 sessions) and over the course you will be introduced to the world of kart racing!!
If your driver shows aptitude, they will almost certainly be rewarded with Certification and become a lifetime K1 STAR!
Both the Indigo (11:30am start) and Lime (14:00 start) course dates are Sunday: 16/9, 23/9, 30/9, 14/10 & 21/10
Indigo (11.30 Start) Lime (14:00 Start)
Further development of your driver
Having completed the course, K1 STARS will be eligible to go racing! On a monthly basis, drivers will be able to enter a special class at Rye House's IKR meeting – A real race event!!
There are two ways of doing so, either on their own K1 kart (certification includes a £499 purchase voucher) or by renting one of our fully race prepared machines.
Further development will all be covered at your pre-course presentation.