Christmas 2017 at Rye-Assic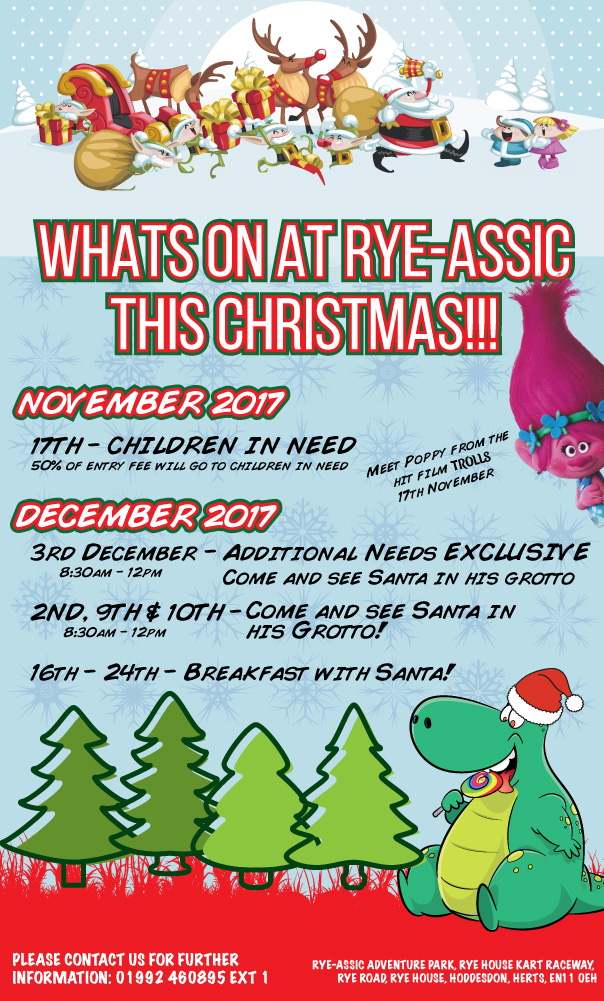 Get ready for a fun filled Christmas with the gang at Rye-Assic!
Come and see Father Christmas in his grotto on December the 2nd, 9th and 10th December (Additional Needs exclusive on the 3rd December!)
Santa's Grotto – BOOK HERE or call Rye_assic on 01992 447888
2nd December  9th December  10th December
Additional Needs Exclusive Santa's Grotto
3rd December
Fancy breakfast with the man himself? Father Christmas will be here from the 16th – 24th December to have breakfast with you all!!! A Buffet breakfast and Tea or Coffee for Mums & Dads, unlimited softplay AND you get to meet the jolly red fella. Make sure you have your cameras!!!
Breakfast with Santa – BOOK HERE or call the team on 01992 447888
16th December  17th December  18th December  19th December  20th December  21st December  22nd December  23rd December  24th December