With the huge success of our recent RHDC taster sessions, we're now opening a NEW RHDC Adult Championship for 2020 – THE LOTUS CUP!!! The guys from the previous taster session were so impressed… they've FILLED up the Senna Cup grid!
This is your chance to taste the RHDC Adult Championships!
Have you ever wondered if you have the ability to race a kart competitively?
Have you ever wondered how much (or little!) it would cost to race a kart competitively?
Well now is YOUR chance to enter our BRAND NEW 2020 Adult championship – The Lotus Cup. Like the Senna Cup this, NEW for 2020, championship will alternate between straight GP60 and 2 x Reversed grid races format, on a monthly basis.
Dates: After a shakedown race April, the point scoring races start in May and run monthly for 7 rounds (best 6 count):
Shake down -18th April
Round 1 – 16th May
Round 2 – 20th June
Round 3 – 18th July
Round 4 – 15th August
Round 5 – 19th September
Round 6 – 17th October
Round 7 – 21st November
All the kit's supplied by us (of course, if you have your own, you're more than welcome to use it!). Qualifying will see where you start for the race. Then a nail biting race to the chequered flag. Top spot will see you not only on the podium, but gain you the all important points! Who will be the Lotus Cup 2020 Champion? The whole season will cost just £599!!!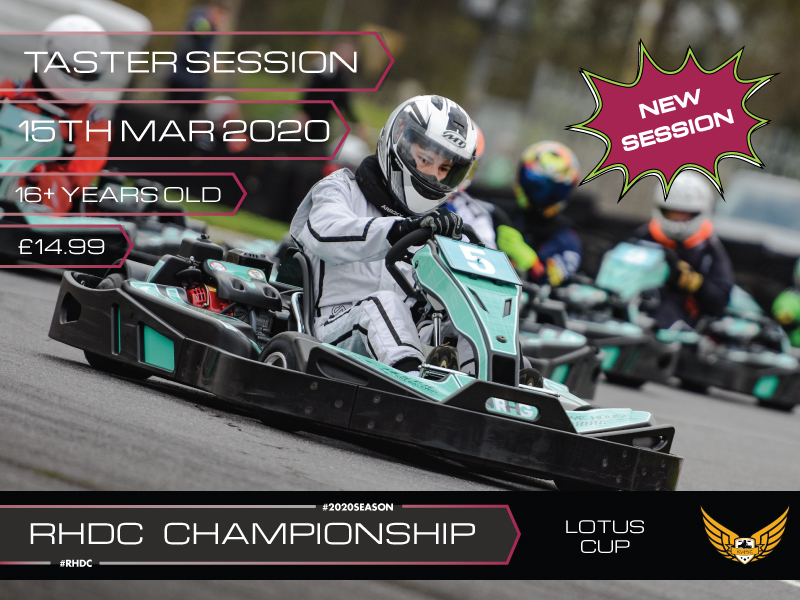 On Sunday 15th March 2020, we are holding try-outs for our new championship (Lotus Cup) to run from April through 'til November aimed at drivers 16 years+, regardless of previous experience or ability.
We will provide you with a kart & all relevant safety wear and our championship co-ordinator will give you a safety briefing followed by a full 20 minute test session. After your session, there will be a debriefing during which we will give you your timing sheets & full details of a fantastic amateur arrive & drive championship that you may wish to join!
This taster session is available at just £14.99 and should you sign up for the LOTUS CUP, we'll give it back!
Running order –
12:45 – Arrival for kitting and safety briefing
13:30 – 20 minute sessions will commence
Followed by – Debriefing and championship talk
Followed by – Time sheets will be handed out
(This is a live event, subject to numbers, you may be here for up to 2.5 hours.)